After the exciting news that Johnny Drill has been married to Rima Tahina for over a year, here are five interesting facts you should know about her.
Johnny Drill shocked fans by announcing Rima Tahina in the early hours of this morning, Tuesday, July 4, 2023, in a post on his social media platform announcing the release of the music video for his new song. The best part. Then music mogul Don Jazzy confirmed the duo's marriage in his heartwarming message on social media.
The caption, which was accompanied by a video shared by the singer, read, I'm so thankful for all of you who share in my world, that part of me I've never shared before until now, the very best part. You have completed me @rimouuune, thank you for loving me ♥️ 'The Best Part' Official Music Video, on youtube 🫶🏾.
Questions have been raised about who Rima Tahina is, and here are five interesting facts you should know about her,
Johnny Drill's wife, Rima Tahini, is Nigerian?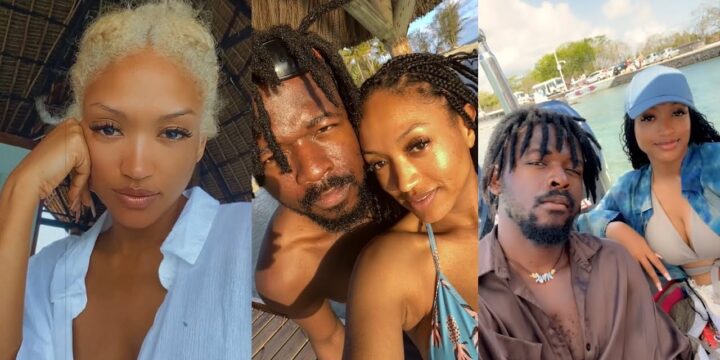 Rima was born in Sierra Leone, where her mother was a native, and her father was Lebanese. Unfortunately, she was born during a time of great turmoil in the country, as the civil war was just beginning, and as such, she and her family had to move to another country.
Rima is multilingual
Rima Tahina, at the age of seven, spoke four different languages. This was because she lived in multiple cities and countries with her family, who became refugees as a result of the war in Sierra Leone.
Academic genius
Rima became an amazing person after completing her studies at the African Leadership Academy. 2012 Received the Allan Gray Gold Award for Outstanding Business Skills. She continued her academic career at Brandeis University, where in 2016 she was awarded the highest honors (Suma Cum Laude) in Business/Economics. Before completing her undergraduate education, Rima worked in the energy industry and developed essential vocational skills. She has worked in thriving places such as Johannesburg, Accra and Lagos for reputable companies such as Tata Africa Holdings, Endeavor Energy Holdings and Symbion Powers, bringing her talents and knowledge to bear.
Director of Artiste and Repertoire (A&R) at Mavin Global
Rima is the Director of A&R for music powerhouse Mavin Records. Over the past decade, Mavin Records has brought us some of the most memorable classic songs and artists from across the continent. Rima plays a significant role in overseeing and maintaining all creative work for the label's artists, including music videos, live performances, and merchandise.
Senior Advisor at Kupanda Capital
In 2016, Rima became part of Kupanda Capital and was instrumental in the development and realization of the partnership between Mavin and Kupanda. Currently, Rima is also a member of the Class of 2022 of the Recording Academy and has been collaborating with some of the most prominent music talents from Africa so far.
Get updates as they come in Twitter and Facebook