Candy Bleakz and Blaqbonez Lyrics
Read the official lyrics for Not Holy by Candy Bleakz, featuring Blaqbonez.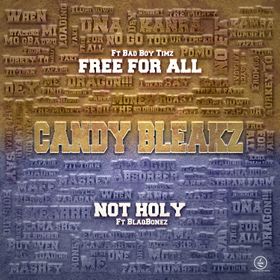 Candy Bleakz & Baqbonez – Not Holy Lyrics
Ladies Dragon
Mafe
If I could say the weather go do so
Whey they attack me like Gatuso?
My Fashion High, eyan Jago
Nwakeko, bami la′gbo, uh
Why you gonna do like this?
Why you gonna vibe like say you be God oh?
Why you con dey shout like that?
Uh, you dey shout for me?
All my guys don gbeff
All my guys don shayo
All my guys don penkelemes
Basira ti shayo
Won ni k'ama fa kpoli oh
Won ni k′ama fa skunk
Won ni k'ama gbe molly oh
But, you know I'm not holy oh, holy oh
Yeah
Mama found out the hard way
Dad don′t know he could find out the hard way
′Cause even me sef no believe am
All these years, I was fighting against Sativa
Make somebody watch over me
For this life, make I no go commit
'Cause these people wan dey test me
I′m high all day, make dem no stress me, yeah
Now, I wish awake and bake
Need to slow down cuh the life is a race
Make I focus, only money me I make
It's a hundred thousand millions
All my guys don gbeff
All my guys don shayo
All my guys don penkelemes
Basira ti shayo
Won ni k′ama fa kpoli oh
Won ni k'ama fa skunk
Won ni k′ama gbe molly oh
But, you know I'm not holy oh, holy oh
Ti moti f'asho awure joko, ti moti para na
Ati 1920 bobo, ni mo tin fa gbana
Won ni won wa mi
Won ni won wa mi, uh-uh
And, I′m on top of the world, I no dey bota, on God
All my guys don gbeff
All my guys don shayo
All my guys don penkelemes
Basira ti shayo
Check Lyrics of latest Naija songs Here
Get Fresh updates as they drop via Twitter and Facebook